There were many things we did in the old days to make a living. One of it, was selling coconuts. I used to help grandma gather coconuts for the middleman to collect. It was in my early teens that I started using the wooden coconut grater, the kind that had a seat, to remove the white flesh from old coconuts for cooking.
After grating enough, I would hold a handful between my palms and squeeze the
coconut milk
out. That was how we used to extract coconut milk in the old days. Using a cloth was unheard of.
Today, coconut milk can be conveniently found in cans and small cartons.
This is another simple recipe (I'm all for anything easy) that busy people can turn to, if their short on cooking time.
Creamy Coconut Milk Chicken

Creamy Coconut Milk Chicken
Ingredients:
- 400g chicken breast fillet (sliced)
- 1 large red onion (chopped)
- 2 cloves garlic (chopped)
- 1 red chilli (sliced)
- 4 green bird's eye chilli (sliced)
- 1 tbsp turmeric power (mix with a bit of water, into wet paste)
- ½ cup coconut milk
- ½ cup water
- ½ tsp sugar
- Salt to taste
- 3 tbsp cooking oil

Optional: canned button mushrooms (sliced)
How-to:
1) Heat cooking oil in pan.
2) Saute onion and garlic for a minute.
3) Add turmeric paste, and stir-fry.
4) Add chicken slices (and mushrooms, if using) along with ¼ cup coconut milk. Mix well.
5) Then, add ½ cup water. Allow the water to come to a boil, and gently stir until all the chicken slices are cooked.
6) Toss in the red and green chilli. Season with sugar and pour in the remainder of the coconut milk.
7) Cook until the sauce thickens a little or until it's creamy. Finally, season with salt.
Best eaten with rice, garnished with fresh lettuce.
1) Ingredients. 2) Saute the onions and garlic. Then, add turmeric.
3) Add the chicken along with some coconut milk.
4) Mix to coat the chicken slices.
5) Add the remaining coconut milk. Cook until creamy.
Creamy Coconut Milk Chicken
~~~~~~~~~~~~~~~~~~~~~~~~~~~~~~~~~~~~~~~~~~~~~~~~~~~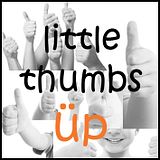 This post is linked to the event Little Thumbs Up (October 2015 : Coconut) organised by Zoe of
Bake for Happy Kids
and Doreen of
My Little Favourite DIY
, and hosted by Jess from
Bakericious
.